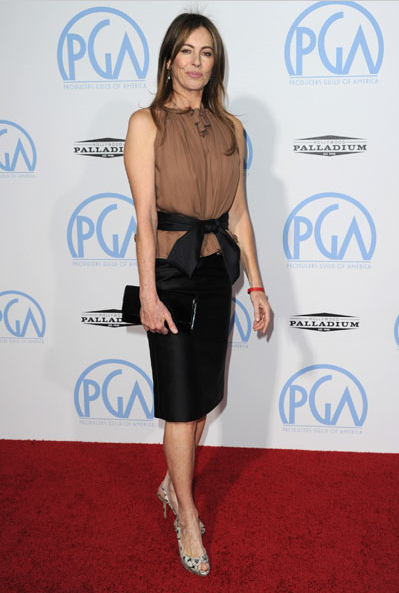 "Your movie is as beautiful as your legs.
You make me question my sexuality."



Lee Daniels

refiriéndose a Kathryn Bigelow durante su discurso
en la ceremonia del

Directors Guild of America

.


En un hecho histórico,
Kathryn Bigelow
se convirtió esta noche en la primera mujer en ser premiada por el gremio de directores de Estados Unidos en reconocimiento a la realización de
The Hurt Locker
. El premio adquiere mayor relevancia al dejar en segundo plano a
James Cameron
(ex-esposo de Bigelow) y el éxito taquillero de 2 mil millones de dólares en que se convirtió
Avatar
.
Tras haber sido premiada también por el gremio de productores (PGA) y a pesar de sólo haber recaudado unos 16 millones de dólares desde su estreno en junio de 2009, The Hurt Locker podría consolidarse como la favorita para recibir el Oscar a Mejor Película. Desde que el gremio de directores creo este premio en 1948, sólo en seis ocasiones éste no ha coincidido con el premio de la AMPAS a Mejor Director y en las últimas tres décadas éste ha coincidido 22 de 29 veces con el premio de Mejor Película.
Además de Bigelow y Cameron, el quinteto de nominados estuvo conformado por
Lee Daniels
(primer director de origen afroamericano que es nominado) por
Precious: Based on the Novel Push by Sapphire
,
Jason Reitman
por
Up in the Air
y
Quentin Tarantino
por
Inglourious Basterds
. Así, Kathryn Bigelow no sólo se unió al reducido grupo de mujeres que han sido nominadas por el DGA, y el cual incluye los nombres de
Lina Wertmüller
(
Seven Beauties o Pasqualino Settebellezze
, 1976),
Jane Campion
(
The Piano
, 1993) y
Sofia Coppola
(
Lost in Translation
, 2003), sino también demostró que cuenta con todo el respaldo y reconocimiento de la industria Hollywoodense.