Update:
El sábado 27 de febrero, la
Sociedad Americana de Cinematografía
otorgó su premio anual a Christian Berger.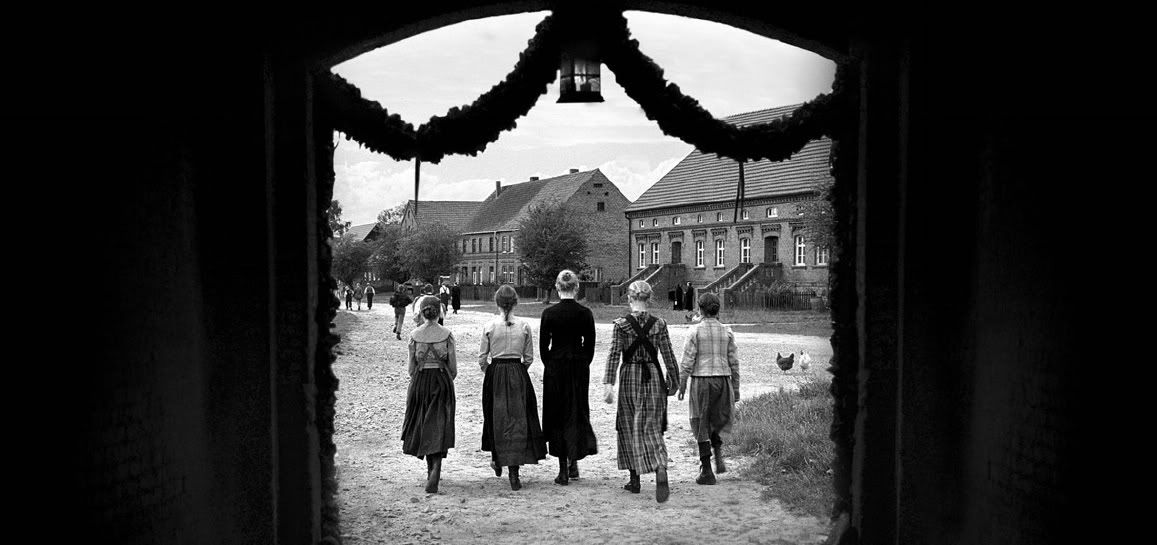 1966 fue el último año en el que las cintas a color y en blanco y negro compitieron en categorías separadas al
Oscar
de cinematografía. Desde entonces, las nominaciones para cintas monocromáticas han sido raras. Este año el trabajo de
Christian Berger
, fotógrafo de
Das weisse Band
, logró colocar al filme del director
Michael Haneke
dentro del selecto grupo de nueve películas predominantemente en blanco y negro que han sido nominadas, siendo las más recientes
Good Night and Good Luck
(
Robert Elswit
, 2005),
The Man Who Wasn't There
(
Roger Deakins
, 2001) y
Schindler's List
(
Janusz Kaminski
, 1993).
Tras
Caché
(2005),
Das weisse Band
(
La Cinta Blanca; The White Ribbon
) se convirtió en la quinta colaboración entre Haneke y Berger. Cuenta Berger que cuando Haneke decidió que quería realizar el filme en blanco y negro, su primera reacción fue de entusiasmo por volver a los "viejos tiempos". Sin embargo, el rodaje no pudo efectuarse de esa forma debido a que los productores deseaban una versión a color para la televisión. Finalmente la película fue rodada a color y la versión monocromática se obtuvo digitalmente.
Fue precisamente el rodaje a color lo que permitió a Berger obtener una escala de grises mucho más fina, pero fue necesario que el fotógrafo, junto con los diseñadores de producción y de vestuario, realizara pruebas con cada uno de los materiales usados para la decoración y los atuendos con el fin de calcular los tonos que se generarían al pasar del color al blanco y negro.
Puesto que la historia se desarrolla en la primera década del siglo XX, un reto particular que encontró Berger fue que en ocasiones las únicas fuentes de luz a su disposición eran velas, lámparas de petróleo o antorchas. En algunos casos, esto hacía que los interiores fueran demasiado oscuros, por lo que una fuente de luz adicional era necesaria para iluminar a los actores. Evidentemente, esto siempre generaba segundas sombras, pero todas ellas fueron borradas en postproducción.
Esta es la primera nominación al Oscar que recibe el fotógrafo austriaco.
Izquierda:
El médico del pueblo hablando a su hija.
Derecha:
Cena en la casa del pastor del pueblo.